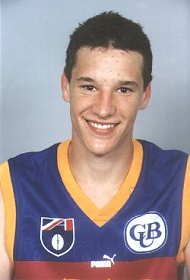 Few from the Brisbane camp would have thought much good could come from Clark Keatingís
long term injury. They didnít count on Beau McDonald.

McDonald had an excellent football pedigree, he is related to the famous Sidebottom brothers,
Garry and Allan who starred for St.Kilda and Fitzroy in the 1980ís.

An avid basketballer, he didnít start playing football until 1996 but had natural affinity with the
game with his height and athleticism.

After serving his football apprenticeship, McDonald found himself in the number one ruck
position after first choice Keating succumbed to injury in early 2000.

It was an opportunity McDonald grasped with both hands. Playing 22 out of 24 games, that
included some outstanding football, McDonald helped the Lions along to yet another finals
campaign.

His confidence boosted by a memorable year, Beau McDonald looks certain to become
a permanent fixture in Brisbane for many seasons to come.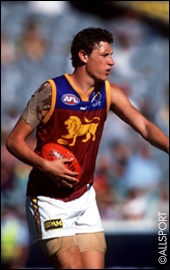 FACT FILE

Middle Name: John
Nick Name: "Bozo"
D.O.B.: 11/3/79
Home: Carina, QLD
Status: Single
Sex: Male
Country: Australia
Star Sign: Scorpio
City of Birth: Perth
High School: Governor Sterling Senior HS
Height: 202 cm
Weight: 94 kg
Current AFL Team: Brisbane
Position Played: Ruck
Games: 28
Goals: 8
Favorite Magazine:
Inside Football
Favorite Film:
Braveheart
Favorite Club:
Look Out - Perth
Favorite Book:
None
Favorite Holiday Destination:
Perth
Favorite Food:
Chicken
Favorite TV Show:
News
Favorite Album:
Californication - Red Hot Chili Peppers
Hobbies/Interests Include:
Surfing† Movies† Music† Motorbikes† AFL†
For the actual page source of this profile (fairly dated), click here. For the updated page click here.